The information below is from

"Early Stories of Hamlets in Township of Ramsay"
by Howard Morton Brown – Carleton Place Canadian, 29 June, 1961
When the northward push of the first settlements of Lanark County reached the township of Ramsay, the town of Almonte and the village of Clayton soon were founded as little frontier communities based on water power sites of the Mississippi and Indian Rivers.  The grist mill and sawmill of Daniel Shipman of Leeds County, built at Ramsay's Great Falls of the Mississippi in 1823, was the nucleus of a village which grew to become the town of Almonte.  A story of some of Almonte's nineteenth century citizens and industries will appear in a following number of the Canadian.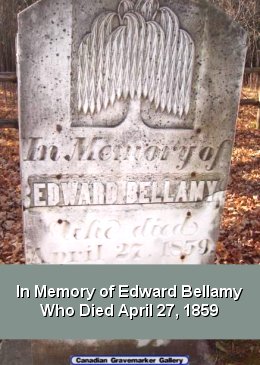 Clayton had its origin little more than a year later than Almonte when Edward Bellamy, who recently had come to Grenville County from Vermont, obtained the water privilege of the falls on the Indian River there and opened a sawmill and grist mill to serve a section of the new townships.  Among the other communities of Ramsay township, Blakeney, once the location of several  manufacturing concerns, came next in time of origin as Snedden's Mills.  Not far from Snedden's the small hamlet of Bennie's Corners appeared on the scene of the eighteen thirties, adjoined on the Indian River by Toshack's carding mill and Baird's grist mill.  The Baird mill, now known as the Mill of Kintail, has been preserved by a private owner for public historical uses and as a residence.
At the township's Apple Tree Falls, where young  Joseph Teskey drew land in 1824, the Teskey brothers later built their saw and grist mills, followed by a succession of woollen mill businesses which began about a century ago at Appleton.
On the Indian River in the north of Ramsay township, in a section where some of the last Indians of the township lived, sawmills have continued to run on a small scale since the eighteen twenties at the community of Clayton.  Edward Bellamy, who in 1824 bought the mill site of its falls, had come from Vergennes in Vermont with his three brothers in 1819 to the Brockville district.  They established the mills and village of North Augusta on the south branch of the Rideau River in Grenville County and mills at other points in Leeds County.
Bellamy's Mills On The Indian River.
At his Ramsay saw and grist mill Edward Bellamy added a distillery and a carding mill.  Around his mills a village grew to have a population of 250 persons.  It continued to be called Bellamy's Mills until in the eighteen fifties its name was changed to Clifton and again changed in 1858 for postal reasons to Clayton.  It was on what was then the main road from Perth to Pembroke, and soon supported a tannery, a cooperage works, a medical doctor, James Coulter's hotel, and shops of blacksmiths, wagon makers, shoemakers and general merchants.  When the political riding of North Lanark was separately established in 1854, its nomination meetings which led regularly to the reform party's reelection of Robert Bell of Carleton Place were held at Clayton.
The village's semi-annual market or fair days were held in mid-April and mid-November.  In an era when not uncommonly feuds and disputes were arbitrated by physical encounter, J. R. Gemmill, founder of the Sarnia Observer and a son of Lanark's first minister, gave this report in his Lanark Observer on an exercise of political passions on Clayton's 1851 spring fair day:
"Riot At Bellamy's Mills."  We regret to learn that another of those disgraceful party rows, which are a blot on the character of any community wherever they occur, took place at Bellamy's Mills on the evening of the Fair or Tryst at that place, namely Wednesday, the 16th instant.  It appears that it originated with some of the younger class, in which ultimately the other spectators interfered, and ended finally in a regular party riot, in which stones and other missiles were so freely used that several individuals have got themselves severely injured.
Bustling Village of Clayton in 1871
About twenty businesses were in operation at and near the bustling village of Clayton in 1871, including a grist mill, a cooperage plant, Coulter's and Gemmill's hotels, McNeil's tannery, the sawmills of Timothy Foley, Daniel Drummond, and William Smith ; James McClary's planning mill, Timothy Blair's carding mill and J. & A. Hunter's woollen cloth factory.  The Hunter woollen mill, destroyed with a fire loss of $10,000 in 1873, was located on the river near Clayton at the site then known as Hunterville.
The village of Appleton was settled and developed by members of the Teskey family who came to Ramsay township in the emigration of 1823 from southern Ireland.  Among less than a dozen families not of Roman Catholic religious persuasion in this government-sponsored emigration to Ramsay, Huntley and Pakenham townships were John Teskey, his wife and nine children from Rathkeale in Limerick.
Joseph, the eldest son, had obtained his hundred acre lot at the location then known as Apple Tree Falls on the Mississippi.  After the family had lived together for a few years on the father's farm (conc. 11, lot 7) in Ramsay and the children had begun to marry, the second son Robert joined with Joseph in building a small saw and grist mill at the falls.  The land including the southern half of the present village was a 200 acre Crown reserve and south of it were the farms of Robert Baird and William Baird, Lanark society settlers of 1821.