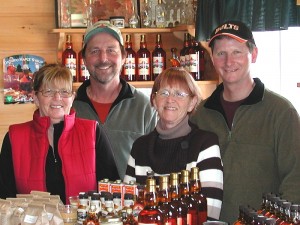 Thompsontown Maple Products is a 6,000-tap maple syrup operation located on a 400 acre farm on the shores of Clayton Lake in the heart of the Ottawa Valley. Just a short drive from the Nation's Capital and nestled in the natural beauty of Lanark County, our family owned and run operation offers you award winning maple syrup, sugar and butter. Discover the tranquil beauty of the maple forest while taking one of our self-guided craving for a taste of spring. Pure Sweetness!!!
walking tours along the shores of scenic Clayton Lake. Maple taffy is always a family favourite. Served on ice and rolled by hand, it is sure to satisfy that
In 1982 Ray and Wayne Thompson, along with their wives Ann and Teresa, re-established a long tradition of maple syrup production on Ray's parents farm on the west shore of Clayton Lake.
A used 3 1/2′ x 12′ Lightning Evaporater was purchased and moved into the sugar camp Ray's father had built in 1954. In the first year, they gathered sap from 1000 buckets. In 1984, the main part of the existing camp was built and a 5′ x 16′ wood fired Waterloo Evaporater was purchased. A 2′ x 5'oil finisher was added at this time along with 1200 taps on pipeline. After a few years, the existing arch was converted to oil since it was too difficult to maintain a good supply of wood to fuel the evaporator.
In the spring of 1997, an additional 400 taps were added to bring production for the farm to 2600 taps. Disaster struck on July 12, 1997 as a tornado-microburst hit the heart of the main maple stand. This resulted in a loss of 70% of the pipeline system and about 600 taps. The clean-up took three months and all of the damaged trees were removed. The January 1998 ice storm resulted in the loss of an additional 200 taps.  
In the spring of 1999, rebuilding of the maple business began with the installation of rigid tubing to service all 1900 of the remaining taps. The sap is now collected from three vacuum tanks and transported to the camp by tractor and trailer. Another 2500 taps were leased from neighboring land and put into production in the spring of 2000. A new 24′ x 32′ addition was completed to enhance the existing sugar camp. This addition is used for packing syrup, candy making and retail sales.
The Thompson's plan to market more syrup at the sugar camp and have added a stage for entertainment, as well as additional parking area, outdoor displays and new nature trails. Visitors are always welcome.