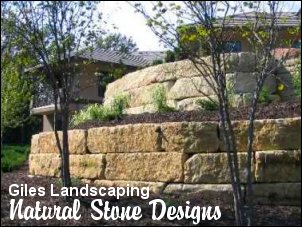 How to reach us:
Phone: 613.256.4505 (H)
Phone: 613.229.4860 (M)
Email: [email protected]
Website: www.gileslandscaping.com
Natural Stone Designs
Natural Stone remains the most desired choice of materials for landscaping worldwide, and has established its place in history. There is no other material that can match it for beauty, strength, and the ability to withstand the ultimate test of time.
If you want to increase the value of your property and extend the enjoyment or your land outdoors, this is the answer.
Serving Eastern Ontario for all your Natural Stone Needs.  Residential and Commercial scheme.
 We Specialize in Natural Stone
Garden WalkwayWalkways
Gardens
Steps
Retaining Walls
A close relationship between home and stones is achieved with all of our design/build projects. Through exploration and appreciation of all traditional and contemporary design elements and a focus on detail, we create both focal points and subtle custom features that make your property personal and on of a kind.
We look forward to working with you to design and build your personal oasis and create solutions to your individual needs and budget.  
About Allan W. Giles Logging & Landscaping Inc.
Since 1992, Allan W. Giles has been beautifully defining the contours of Eastern Ontario and has become a respected business man in the Lanark County & Ottawa Region
Allan you will find a knowledgeable and courteous professional for all your landscape requirements. We carry a vast array of Natural Stone, Decorative Aggregates, Soils and Mulches, Sand and Gravel, Interlock and Pre-cast Concrete products.
Our services are supported with a diversified fleet of trucks & equipment which enables us to deliver the products that you require in any quantity, large or small, economically and on-time. We also provide Crane Truck services to homeowners and contractors for onsite placement and installation of large stones architecture.
What Makes Us Better
We have extended hours during spring, summer and fall seasons and personally answer all phone calls.
Our employees are serious and committed to the work we do.
Documented standards for all work completion, as well as proper conduct, appearance and workplace safety.
Mandatory adherence to above standards for all employees.
We have competitive prices.
We provide free estimates.
Our landscape designs, artistic touch and skillful construction find an optimal balance of your ideas with practical, affordable and environmentally sound solutions.
Design
A well designed landscape can be inspiring. It can provide a sense of calming, a sense of awe, and a sense of balance.  Nature itself has a way of forging color and rhythm and balance all on its own.  These unique and transcending enviroment can be recreated in a home garden in any style you desire.
Our design process starts with an onsite consultation where we will walk through your property with you and discuss functional solutions to problematic areas and explore initial design concepts for the project.
Once we have determined the practical needs for your landscaping and both parties are satisfied with all of the conceptual ideas for the property, leave the work to us. 
" Let Giles Landscaping help make your landscaping a lasting expression of time "